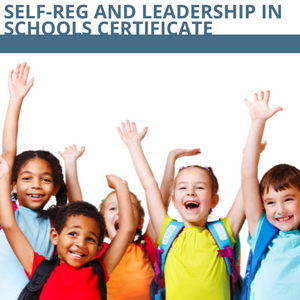 A Self-Reg Level 1 Certificate Program
Every educational leader* has always had the same goal: a school in which everyone flourishes – not just academically, but socially, psychologically and morally. It's the HOW that has always proved challenging. Self-Regulation is needed now more than ever, as school leaders* confront ever-increasing challenges: explosive behaviour, mental health needs around every corner, staff shortages and burnout. And all this amid the important overarching goal of providing the best possible education to every child.
Meeting these challenges requires not just effort, inspiration and sound pedagogy, but also a deep understanding of the science of stress: how excess stress impacts learning and well-being, not just for students, but also for staff and leaders themselves, AND what to do about it. The HOW! That's where Self-Reg comes in.
This 12-module certificate course, our most advanced course in professional applied Shanker Self-Reg®, is definitely not yet another program. Self-Reg and Leadership in Schools will enable educational leaders to harness and use the science of Self-Reg to build a  supportive, inclusive centre of deep learning for all. Participants will learn, not only new ways to approach leadership, but also how Self-Reg can enhance the leadership knowledge, skills and priorities they already have and how to address the stressors that are impacting schools everywhere.
* includes teacher leaders, department heads, special education teachers, ECE leaders, school administrators, camp directors, professional learning leaders, teacher consultants and other school board staff.
PROGRAM OVERVIEW
COURSE 1: 
Intro:   

Self-regulation, co-regulation and pathways to wellbeing and resilience 

Module 1: 

Self-Reg as a framework in schools – what it is and how it can help 

Module 2:

Reframing dysregulation in schools –why it isn't about students making better choices

Module 3:

Applying the brain-body science to support students, educators and teams

Module 4:

Stress is not the enemy – harnessing growth promoting modes of self-regulation in school 
COURSE 2: 
Module 5:

The Self-Reg Framework: Applying the 5 Practices across 5 domains in Schools

Module 6:

The Seeds Journey - Stories, tools and strategies for individuals

Module 7:

The Sunrise Journey - Stories, tools and strategies for teams

Module 8:

The Quilt Journey - Applying Self-Reg in systems and whole schools alongside other priorities such as: safe schools initiatives, mental health strategies, academic achievement priorities
COURSE 3:
Module 9:

All Means All - Anxiety

Module 10

: All Means All - Autism

Module 11:

All Means All- ADHD

Module 12:

The Haven Journey - What going "Self-Reg" means, 5 Look fors, 8 Guiding Values and stories of hope and how tos
But, is it for me? If you're interested in learning applied Self-Reg for school environments, how to apply the science of stress and the Shanker Method® to inform and enhance your role in school leadership, then yes, this Self-Reg program is for you.
Three separate four-module courses

Each courses takes 4 weeks to complete

Learn at times of your own choosing: approximately 4 – 6 hours per week

Engage with as part of a support cohort of learners

Course facilitation from a TMC Self-Reg Specialist

Short videos from Dr. Shanker and Susan Hopkins with "bite-sized" chunks of information

Questions designed to support understanding, reflection and application of Self-Reg learning

Interactive responding to comments of other learners online

No tests, quizzes or exams in this program, rather this offering is for educational purposes where we interact and learn alongside fellow learners
This is the companion course for the Self-Reg Schools: A Handbook For Educators (standard edition). A copy of the Handbook is required for this course and is available here or through Pearson here.
Upon completion, you will receive a certificate identifying you have completed the Leadership for Self-Reg Schools Certificate Program and may now refer to yourself as a Shanker Self-Reg® Champion.
Immediately after registering, you will receive your confirmation of enrolment/receipt. We will then be in contact a few days before the course start date with a welcome and information about logging into our eSchool. 
Do you have a group of 25+ learners? We are able to run private online cohorts for your team with flexible start dates. Email us at info@self-reg.ca with what you would love to see and we'll make it happen.
See our course calendar here.