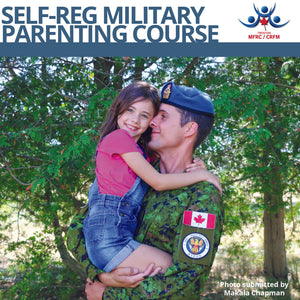 Self-Reg Military Parenting is a specially designed online course that helps parents apply Shanker Self-Reg in everyday parenting while addressing the unique challenges faced by military families, such as transitions, separation and relocation. 

Developed in collaboration with the Trenton Military Family Resource Centre, this 6-module, video-based course is an adaptation of our popular Self-Reg Parenting Course, which has helped hundreds of parents understand and address how excess stress affects both children and parents, and what to do about it.
Self-Reg Military Parenting covers the core principles of Shanker Self-Reg®, and how they relate to parenting today's children, along with specific challenges related to school, transitions, parenting from afar and behaviour.

Module 1 - Stress Behaviour vs. Misbehaviour: The difference between self-regulation and self-control, the impact of stress on behaviour; stress behaviour vs. misbehaviour
Module 2 - The Power of Relationships: Our 3 brain systems and how they help us respond to stress, the 5 domains of stress & self-regulation, the 5 practices of Self-Reg
Module 3 - Adult Self-Reg: Co-regulation: how adults help children manage stress; the parent-child relationship; the impact of adult stress on parenting and family relationships
Module 4 - Parenting from Afar: Staying connected; navigating the unique stressors related to separations such as travel, deployment and reunions
Module 5 - Self-Reg in School: understanding and managing child and parent stress around schooling including special needs, ADHD, autism and supporting children with school-related behaviour problems
Module 6 - Stress & Transitions: supporting children and their stressors related to transitions such as moving, new schools, travel, parent absence; parent stress around transitions
The course will include parenting stories from military parents and will address some specific parenting challenges around issues like sleep, eating and parent-child conflict.
The course material consists of a series of videos that parents can watch at their convenience, and rewatch as often as they like until the end of 2023. Any registrations from November onwards will be valid until the end of the following year. 
AVAILABLE NOW!
(Please note that this course is designed to be helpful to all military parents and is not meant to replace clinical treatments or therapy.)
Groups
Group purchase options are available. Receive a shareable log in and a facilitator's guide for you to lead the course in your community. If purchasing a group registration option we ask that you agree to our Group Memorandum of Understanding* (MoU), which outlines your group's usage of the course.
*Group Memorandum of Understanding