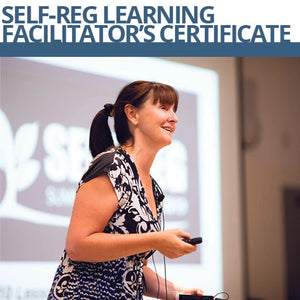 A Self-Reg Level 2 Certificate Program*

For those looking to dive deeper in their Shanker Self-Reg® learning and be equipped with the tools to bring Self-Reg to those in their community and care, the Self-Reg Facilitator's Program is a fantastic next step. Anyone who has completed the Self-Reg Foundations, Early Childhood Development and/or Leadership Certificate Program and is interested in taking their Self-Reg expertise to the next level may apply. The demand for Shanker Self-Reg® learning informed by The MEHRIT Centre is growing.
To meet the demand and our mission of grounding living and learning in self-regulation we are offering this program so that champions in Shanker Self-Reg® knowledge translation* will be widely available. Through this program:
Further ground your understandings of the Shanker Self-Reg® science and research foundations of The Shanker Method®.
Develop expertise in the Self-Reg Framework and application of the Shanker Method®.
Apply the Shanker Method® to case studies across a range of contexts.
Research, plan, develop, deliver*, assess and evaluate Self-Reg workshops.
Earn a Self-Reg Learning Facilitator Certificate.
Be eligible to apply for presenter and facilitator positions available with TMC - *Canada only
*Please see TMC's Terms of Use - this program does not grant certificate holders the use of Shanker Self-Reg® Trademarks, IP, copyright or other resources for for-profit usage.
ABOUT THE PROGRAM
The Facilitator's program combines a collection of short videos from Dr. Stuart Shanker, a collaborative inquiry model, and case studies.

Using a facilitated cohort model similar to that in the Self-Reg Foundations program, the Facilitator's Program has 6 courses:

1 for each step of the 5 Step Method,

1 integrated application courses.

No tests, quizzes or exams in this program, rather this offering is for educational purposes where we interact and learn alongside fellow learners.
COURSE STRUCTURE
Each of the 6 courses has four modules.  Each module is 1 week long with a (short) pre and post-module task.  The modules are designed to take approximately 5 hours each to complete.
Pre-Module Quiz or Task

Module 1: Digging Deeper

Module 2: Applying the Science (individuals)

Module 3: Applying the Science (groups)

Module 4: Extending the Learning

Post-Module Quiz or Task
For a detailed module course breakdown visit our Course Calendar here. 
See the technical requirements for our eSchool here. 
*Note: The Self-Reg Foundations, Early Childhood Development and/or Leadership Certificate Program is a prerequisite for taking this course.  
Note: If you are purchasing this program on behalf of someone else please contact onlinelearning@self-reg.ca with their name and email address.
Immediately after registering, you will receive your confirmation of enrollment/receipt. We will then be in contact a few days before the course start date with a welcome and information about logging into our eSchool.